Books and Tea Book Club| February Read-along
Seeing as though last months post went down well I guess this will become a monthly check in. I have the original post with a huge run down on what we offer but it is out of date. I'll be creating a 2018 one …soon.

January's read-alongs went really well and I successfully took part in the Comet in Moominland one! Want to see what we're reading for February? Keep reading this post!

February usually ends up being romance theme to fit in with Valentines but I decided to spin it a little differently this year. I picked the them of Favourite (or most wanted to read) 2017 release!
So many good books were put forward to be included with the vote so narrowing the list to have a range of genres was actually really hard as I wanted to include every single book. I ended up picking 5 YA and 5 Adult books to go forward with a range of genres in each.
The selected books for the vote were: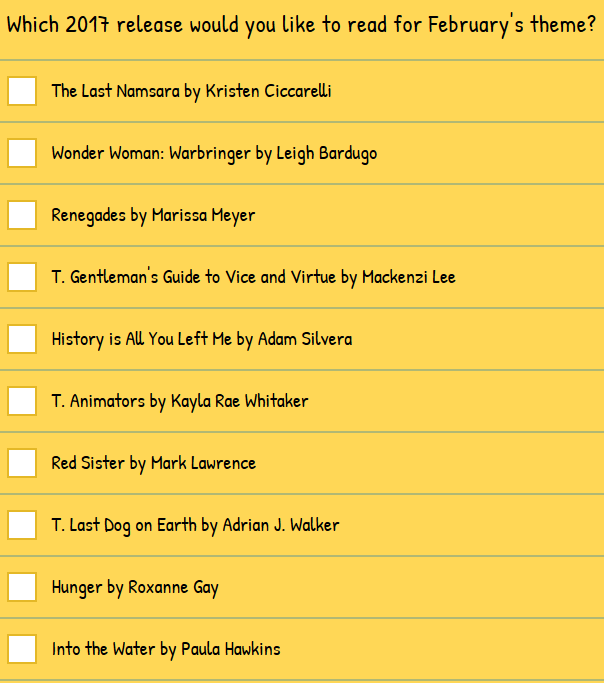 As always it was fun to watch the votes come in and I was actually really really surprised by the few that were battling for the top spots.
After a little while I did another vote for the top four to allow people to re-vote if their choices weren't that popular. The top for were Wonder Woman, The Last Namsara, The Gentleman's Guide to Vice and Virtue and The Last Dog on Earth.
But the clear winner was…

How exciting!
If you're interested in reading The Gentleman's Guide to Vice and Virtue feel free to stop by the discord chat and sign up.
We have a dedicated chat to the book so you can discuss it with other members, and avoid spoiling those who aren't taking part.
---
If you're late or a slow reader then you can still join the Book Club and take part in reading either Beyond the Deepwoods or Comet in Moominland as I wont close these chats until the end of February! I'm well aware we aren't all quick readers and have lives outside of books too – shocking I know!
As mentioned last month, the 2018 Series Read-along of His Dark Materials trilogy by Philip Pullman is still going forward. The aim is to move onto the second book around the middle of February but don't fret because I have yet to pick up the first one yet either.
So if any of these books spark your interest and you want to discuss them with others who are reading, please
feel free to join
. We also have a giveaway happening for active members for March's Read-along book – sorry Admins choice so no vote.
Have you read any of these?