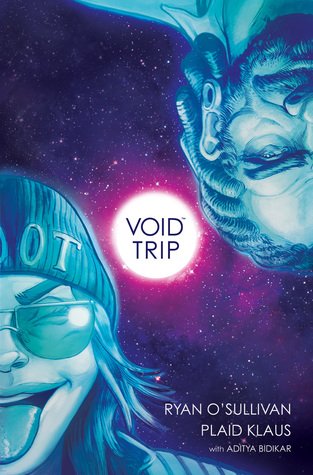 Void Trip by Ryan O'Sullivan and illustrated by Plaid Klaus
Series: Void Trip #1-5
Genre: Science Fiction | Graphic Novel
Length: 144 pages
Published on 5th June 2018 by Image Comics
Purchase: Amazon | TBD
Ryan O'Sullivan: Twitter | Goodreads
Plaid Klaus: Twitter | Goodreads
Digital Review Copy received from Edelweiss for review
Synopsis:
From writer RYAN O'SULLIVAN (Turncoat, The Evil Within, Warhammer 40,000) and illustrator PLAID KLAUS (Turncoat) comes the story of Ana and Gabe, the last two humans left alive in the galaxy. They're low on fuel, they're low on food, and they're low on psychedelic space froot, but they're still determined to make it to the promised land: hippy-paradise super-planet Euphoria. This is the story of their journey, the friends and enemies they made along the way, and how the universe responded to those who dared to live freely within it.
Collects issues 1 through 5.
Continue reading "ARC Graphic Novel Review: Void Trip by Ryan O'Sullivan" →