Books and Tea Book Club | December Events
Hi guys, its been a while so its time to check back in and let you know whats happening. If you want a full run down on what my Book Club has to offer please visit this post.

Keep reading to see what we have planned for December!

---
One of the events we've hosted during December is a Secret Santa Book Swap, this is already under way and for members who've been around for a while to be sure people don't get a book and run. Some members have already recieved their parcels and others still have theirs to come so I'll probably do a little wrap up on what I got from this later on in the month.

So far this is running really smoothly and I love how happy everyone has been about their gifts.

---
So onto our monthly read-along right?

Wrong! I don't host read-alongs for December as I don't want to cause a lot of people to commit to a new book so close to the end of the year so instead we do a End of Year Read-a-thon!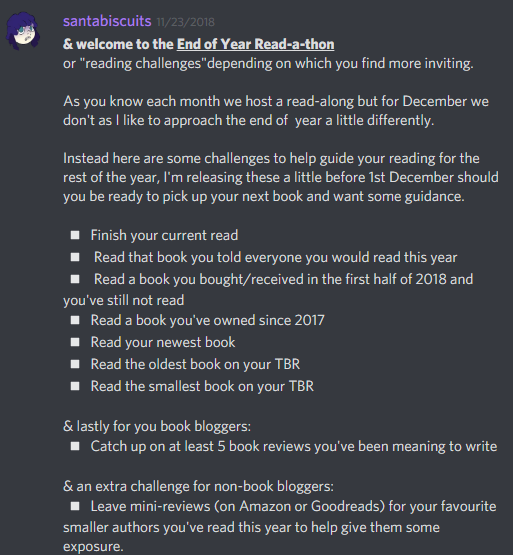 This is the full list of challenges we have; with the main goal to finish up the books you're currently reading but it does have some options to start and finish other books of your choice to help tackle your TBR.
---
We've also started taking recommendations for 2019's read-along themes, this weekend I have to sort through the options and decide what they'll be and release the first 2 of the read-alongs I've already planned for them ;)
So if any of these books spark your interest and you want to discuss them with others who are reading, please
feel free to join
.
What themes would you like to see for read-alongs?