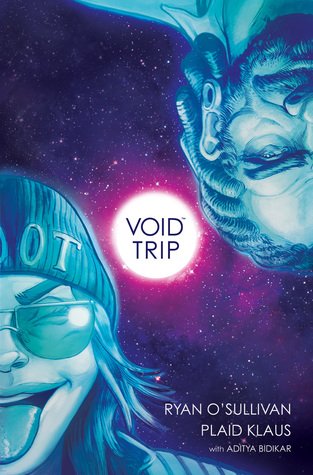 Void Trip by Ryan O'Sullivan and illustrated by Plaid Klaus
Series: Void Trip #1-5
Genre: Science Fiction | Graphic Novel
Length: 144 pages
Published on 5th June 2018 by Image Comics
Purchase: Amazon | TBD
Ryan O'Sullivan: Twitter | Goodreads
Plaid Klaus: Twitter | Goodreads
Digital Review Copy received from Edelweiss for review
Synopsis:
From writer RYAN O'SULLIVAN (Turncoat, The Evil Within, Warhammer 40,000) and illustrator PLAID KLAUS (Turncoat) comes the story of Ana and Gabe, the last two humans left alive in the galaxy. They're low on fuel, they're low on food, and they're low on psychedelic space froot, but they're still determined to make it to the promised land: hippy-paradise super-planet Euphoria. This is the story of their journey, the friends and enemies they made along the way, and how the universe responded to those who dared to live freely within it.
Collects issues 1 through 5.
Apparently I have no self control and decided to browse Edelweiss because I've never picked up anything from there and thought I would be safe.
I wasn't.
I stumbled across the Image Comics section and found 2 that I was super interested in. This is the first.
I didn't read the synopsis, as always I selected based on the art but I had to trust the cover.
Void Trip follows Ana (man I love her character design, attitude, and general aesthetic) and Gabe as they travel across the universe getting high whilst trying to reach the hippy paradise of Euphoria. Unfortunately they're also being hunted.
As this story follows people getting high it really lends itself to a great exploration of art and colours. I really enjoyed how the use of drugs effects the scenes, colours, or characters face. It also makes for the narrative to be a little unreliable.
There is a section about Blue vs Red robot war that happens and I think this has some great lines. I enjoyed the short tale about how that war came to be, its
This is definitely a wild ride but it has comedic and deep times too. I gasped at the end because I was suprised at the way the story unfolded and how the method of the story being told really adds to why some elements of the story aren't fully explained or expanded on.
It may only be 144 pages but I cared deeply for the characters and I'm sad there isn't another volume. However, at least I've been introduced to a new author and illustrator.
5 stars / 5 stars