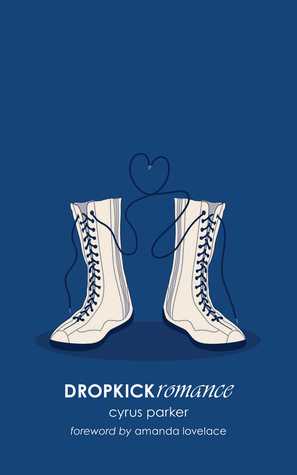 DROPKICKromance by Cyrus Parker
Genre: Poetry | Nonfiction
Length: 176 pages
Published on 6th March 2018 by Andrews McMeel Publishing
Purchase: Amazon | B&N | TBD | Waterstones | WHSmith
Cyrus Parker: Website | Twitter | Goodreads
eARC received from NetGalley
Synopsis:
A collection of autobiographical poetry about healing and learning to love again from professional-wrestler-turned-poet, Cyrus Parker.
The first half of DROPKICKromance focuses on a toxic, long-distance relationship the author was involved in for several years, while the second half focuses on his current relationship with poet Amanda Lovelace. Ultimately, the collection tells about a profound journey of healing.
Even though I knew before hand what the poems in DROPKICKromance would be about I was still somewhat in the dark as any writer could tackle these themes in many different ways.
I think Cyrus did a really great job of portraying his struggles with an abusive relationship, growing the strength to move forward and accept he can have more, and finding home within himself and his new love.
Something I really appreciated was the composition of each page. The poems that focus on the past and the previous relationship are all aligned on the left of the page.
The poems that are about him taking the steps to make a change in his life and focus on growth are aligned in the center of the page to indicate a movement towards where he's at now.
And, of course, the poems that showcase he's accepted this change, that he's grown and learning to stay more positive are aligned on the right of the page.
I've included two of my favourites below to further illustrate this composition choice. I really appreciated this design aspect!
Plenty of these poems were powerful and you could feel what Cyrus felt. The one that touched me the most was when asking Amanda's father for his permission to marry her. It was perfect.Another poem that stuck out to me is the one he wrote about Ohio. It such a powerful one and highlights, to me at least, how one place can have such different connotations for different people.
My heart is in Ohio. (The amount of friends I have in Ohio is growing a lot this past year. I'll be meeting 4? of them in March)
Anyway I was really impressed with this collection and I will happily read more of Cyrus' work in the future. Now off I go to pre-order a copy so it can sit next to The Princess Saves Herself in This One.
4 stars / 5 stars