Spooks and Tea: Grimoire Notes
For anyone who isn't aware I run a book club and for October we're doing a horror genre read-a-thon!
One of the chats we have is called Grimoire Notes which is to encourage people to talk about the books they've finished for the read-a-thon to help grow peoples TBR piles.

Horror, what horror | I started booktubing.
So I'd already shared a blog post with my potential TBR but I also made a video because I want to get used to making them without editing.
That was made on the 5th October so lets see what progress I've made since then
---
Daily Log:
1st:
128 pages of Rat Queens, Vol 1
2nd: 68 pages of Carnivore
3rd:
301 pages of Lighter Than My Shadow + 27 pages of Carnivore
4th:
83 pages of Lighter Than My Shadow + 40 pages of Paper Girls, Vol 3
5th:
88 pages of Paper Girls, Vol 3 + 124 pages of Lighter Than My Shadow + 16 pages of Carnivore
6th:
104 pages of Carnivore
7th: 60 pages of Carnivore
8th:
152 pages of Saga, Vol 4
Total:I bolded the days I managed to achieve my goal of reading more than 100 pages but on average I'm still achieving it.
Which is awesome given that I'll be away next weekend and likely reading nothing at all.
So what did I finish?
Grimoire Notes:
Rat Queens, Vol 1 | ⭐⭐⭐⭐⭐
I loved this. Its so vulgar and fun. Each of the main characters ran away with my heart tbh.
Lighter Than My Shadow | ⭐⭐⭐⭐⭐
I spoke about this in the video but this is really interesting on the journey of mental health, abuse, and eating disorders
Paper Girls, Vol 3 | ⭐⭐⭐⭐⭐
Yes I love these girls and their adventure is getting wilder. Also potential for queer characters?!
Carnivore | ⭐⭐⭐⭐
This is so violent and gruesome. But also poetic. I really enjoyed it but it is definitely not for everyone. It would really benefit from a trigger warning list at the start.As you can see I didn't do great for the first week on reading horror themed books even though on the 5th I said I would do better.
Saga, Vol 4 | ⭐⭐⭐⭐
I really enjoy this series so much. I'm sad they weren't together as much this volume and hope they're reunited fairly quickly as I love their dynamic.
I will be posting reviews on all of these books throughout the coming month so check back for those.
This is why I rarely ever make month TBR because I just simply do not stick to them.
At least I can start Horror books now I've read everything else that I wanted to read.
---
If you're interested in taking part feel free to join the book club and sign up (type ?rank spooksandtea), there is no deadline and we love meeting new bookish people.
We've created a nice selection of chats for this event too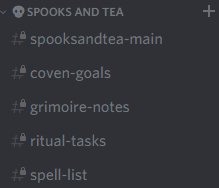 Are you reading any horror books this month? Is there any I should check out?