Spooks and Tea: Coven Goals
For anyone who isn't aware I run a book club and for October we're doing a horror genre read-a-thon!
So I'm just going to make this post to keep track of my personal Coven Goals for the month.

Current Possibilities for my TBR: this is hard.
I went through my Goodreads to read list and searched for anything that was tagged horror to help me figure out what I could read.
I'm going to select my top 5 from those that I hope to read
1. Uzumaki by Junji Ito
2. Tomie by Junji Ito
3. Bedlam Vol 1 by Nick Spencer
4. House of Furies by Madeleine Roux
5. There's Someone Inside Your House by Stephanie Perkins
Other Coven Goals
– Read minimum an average 100 pages a day
– Share weekly progress I've made
– Create a Spell List
–
Complete the Rituals* I signed up for:
– Read a book at night
– Read a paranormal book
– Recommend a book
– Do a spooky book review
– Pick a horror novel without reading the synopsis (Tomie)
– Read a book that is over 200 pages
– Re-read your favourite halloween read (Uzumaki)*I'll make a post on all the rituals at a later date but huge thanks to Emmie at
Tea with Emmie
for creating the full list.If you're interested in taking part feel free to
join the book club
and sign up (type ?rank spooksandtea), there is no deadline and we love meeting new bookish people.
We've created a nice selection of chats for this event too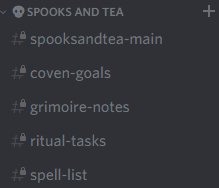 Are you reading any horror books this month? Is there any I should check out?